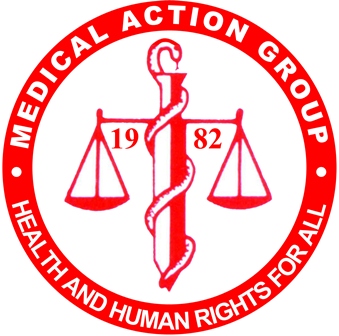 International Human Rights Day Statement
10 December 2014
Asserting the Filipino People's Right to Health
After four years the Philippine healthcare system under the Aquino administration remains bleak if not getting worse. Health care inequalities, failed public health financing, the continuous exodus of health care professionals, weak health care response to disaster and the lack of immediate health care provisions to victims of human rights violations characterized the ill-state of the Philippine Public Health System.
Inequities in Health Services
While the Philippine government claimed to gain a steady economic growth since President Aquino assumed office in 2010, there is a minimal improvement in poverty incidence as inequities in the access of health care services remain. 2012 Study of the Universal Health Care Study Group shows that 60% of Filipinos who die, die without being attended by health professionals. Even in birth mortality, among the rich, only 10 infants out of 1,000 live births die but among the poor, it is more than 90 infants.
Universal Health Care
Although, the Aquino administration has made strides in the incremental increase in the population coverage of Universal Health Care (Kalusugan Pangkalahatan) but it is only 9% of Financial Risk Protection that actually shouldered by Philippine Health Insurance Corporation (PHilHealth). This is despite of the "no balance billing policy" for PhilHealth members, which leaves more poor Filipinos with no other option but to rely on the private sector for their health care needs even though there is nothing in their pocket to begin with. The government must go beyond ensuring that each Filipino has a PhilHealth card. It should mean the enjoyment of the essential health services, basic medicines and appropriate quality health care.
Devolution of Public Health
While there is a big improvement in the health facilities through the Health Facilities Enhancement Program, however, inefficiency in service delivery persists as patient referral system and gatekeeping do not work well due to the decentralized administration of public hospitals and the presence of a large private sector which often create fragmentation and variation in the health services across the country.
Migration of Health Workers
It can't be denied that there is a chronic shortage of health care personnel in our public health care delivery. Only 30% of health professionals are actually serving the 70% of the population. This is due to the fact that Philippines is now a major exporter of health workers. And many more are expected to join the exodus as their benefits under RA 7305 (Magna Carta of Public Health Workers) such as Hazard Pay, Subsistence and Laundry Allowances were either totally not given or cut back. Sometimes they rely on act of political charity that usually perpetuates patronage politics.
Health Care Response to Disaster
It is much worse in times of calamities as the government failed to ensure the available, accessible, appropriate, timely and with quality delivery health care services to disaster affected communities. The government usually depends on international support aid to cover the affected population's health care needs. How can we expect for the government to be even prepared for Ebola virus epidemic?
Right to Health Care of Human Right Victims
In spite of the passage of a number of human rights legislations particularly the Republic Act No. 9745 or the Anti-Torture law of 2009 which does not only penalize the act of torture but guarantee the right of the victim to have immediate medical and psychological treatment, victims are usually denied of health care provisions for lack of existing government programs. While the immediate treatment and rehabilitation of survivors and their families are urgent and vital, they can't however achieve complete healing without the pursuit of justice and an access to effective legal remedies.
Government must act NOW!
Today as we commemorate the International Human Rights Day 2014, the Medical Action Group calls on the Aquino government to walk its talk; it should back its promises particularly on health care programs with action. It can't ignore the reality on the ground. The Kalusugan Pangkalahatan can't be a mere lip service but rather must ensure every Filipino's right to health.
We all share a sense of urgency. It is time for us, PNoy's bosses to claim our rights.
***