MAG has also conducted an activity on data presentation and consultation with the participating DOH hospitals in October 2019 at Metro Manila, in order to consult with the participating hospitals to further improve the initial findings and analysis of the research. Participants of the activity include personnel from our partner DOH Hospitals specifically the following: (i) Hospital or Medical Center Chief; (ii) Training Officer; and (iii) Head of the Psychiatry Department. Five (5) out of the seven (7) partner hospitals were able to send representative to attend this activity. From the DOH Central Office, a representative from the DOH Health Human Resource Development Bureau (HHRDB) which is in-charge of the trainings required for the employees of DOH Hospitals was also present. This has been done on October 2019 at Metro Manila.
During the start of the activity, the participants have been oriented on the rights-based approach to health, as well as on Patient's Rights. It is only after this that the research has been presented to the group so as to establish that it is based on rights-based principles above all else. Additional information were given by the participants in order to improve the research results and analysis.
After these, workshops were done to identify (i) the current efforts and plans of the hospitals for their institutions; and (ii) their role in the implementation of recently signed health-related laws (i.e. the Universal Health Care Law, or the Republic Act 11223, and the Mental Health Law, or the Republic Act 11036).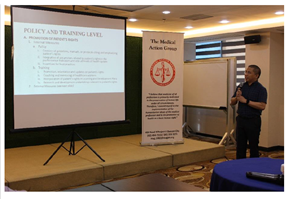 Some of the efforts and programs of the hospitals, as well as their role in implmenting the recently signed health laws, include the following:
Patient consultations are scheduled as response to the influx of patients vis-a-vis available health staff

Community health professionals are trained with the mHGAP as a step to making mental health services accessible to the community, together with the efforts of some hospitals to conduct psychiatry nursing training programs to nurses from different levels of hospitals

The hospitals conduct psychoeducation sessions and programs with the community members and relatives of patients to make them aware on mental health conditions and how to respond to these

Having a psychiatry residency training program to encourage more health professionals to work in their respective hospitals and communities (and not only in the metro areas)

Most of the hospitals have crisis hotlines that aims to respond to incidences of mental health emergencies

Partnership with other government agencies (e.g. DSWD, LGU) for more resources and more effective delivery of health services