Press release
September 23, 2015
Paramilitary groups, impunity….the entrenched legacies of martial law
More than nine months for the Aquino administration term end, his administration will be remembered for lost ground on important measures of breaking impunity which is the entrenched legacy of martial law, said the Medical Action Group Inc. (MAG), Task Force Detainees of the Philippines (TFDP) and Philippine Alliance of Human Rights Advocates (PAHRA) on the 43rd commemoration of Martial Law.
The harassments and killings of human rights defenders are on the rise in the country. Based on the documentation by the MAG and TFDP under its "Human Rights Defenders (HRDs) Protection project", since September 2013, there are 34 cases of harassment, intimidation and extra judicial killings committed to HRDs. Most of them are resisting land grabbing, mining and other development aggression projects.
"These incidents are part of a growing pattern of criminalization of human rights work and alleged human rights violations committed against human rights defenders in the country that must be broken before it escalates beyond control," Edeliza P. Hernandez, MAG Executive Director said.
While human rights defenders play crucial role in seeking accountability for human rights violations both by government and corporations, they have faced significant challenges such as filing of trump up charges against them leading to their arrest and detention, which are systematically used by authorities to suppress dissent. For instance, the case of Barangay Chairperson Antonio L. Tolentino, human rights defender and one of the leaders of Aniban ng Nagkakaisang Mamamayan ng Hacienda Dolores (ANIBAN), was arrested due to trumped up charges filed by private land developer and detained since April 16, 2014.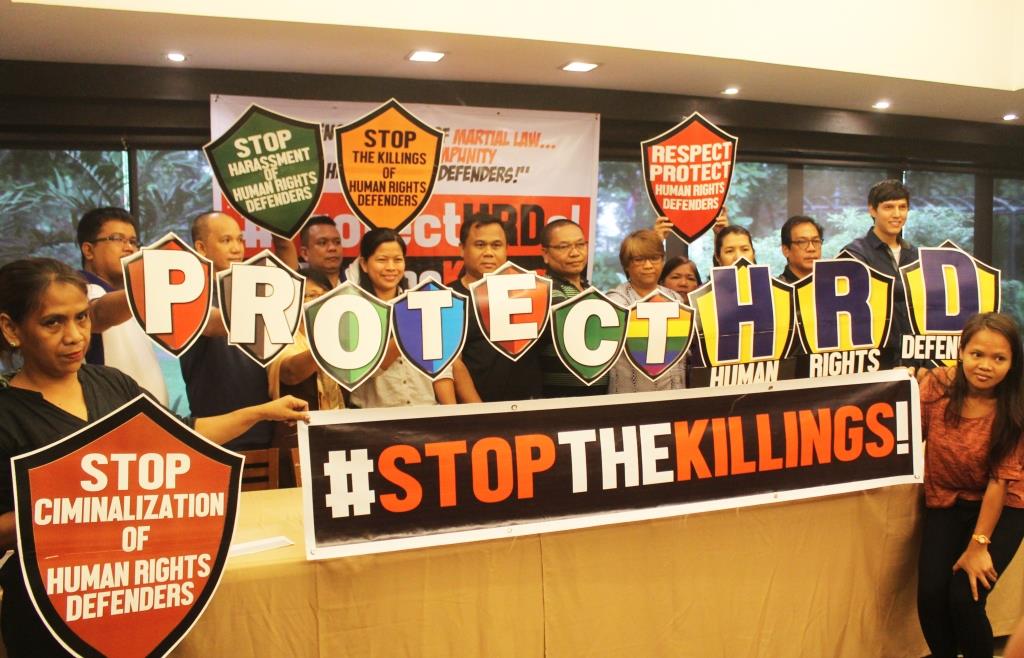 While the recent spate of killings and other alleged human rights violations that have forced hundreds of indigenous peoples to leave their communities in the provinces of Bukidnon and Surigao del Sur has triggered international outrage and concern.
"Aquino's pledge of revoking Executive Order (EO) No. 546 s. 2006, is nothing more of a publicity stunt as paramilitary groups continues to wreak havoc in mining affected communities in Mindanao, the most recent of which was the September 1 killing of two human rights defenders in Surigao del Sur by the paramilitary group known as Magahat-Bagani,'' continued Emmanuel C. Amistad, TFDP Executive Director.
EO No. 546 s. 2006 by former Pres. GMA authorized local chief executives, through the police, to deputize civilian village security and force multipliers to support in counterinsurgency efforts.
Rose R. Trajano, Secretary-General of PAHRA further said "human rights defenders working on land and environment rights such as indigenous peoples have become among the most vulnerable groups in terms of killing, subjected to vilification and criminalization. These defenders must be protected because they are not only fighting for their lives but also for ours."
"We call on the government to provide the basis for a safe and enabling environment for human rights defenders by enacting a law (House Bill No. 1472, "Human Rights Defenders Protection Act of 2013) http://www.congress.gov.ph/members/search.php?id=hicap-f&pg=coauth to protect human rights defenders," the groups said.
The groups concluded it is important for the Commission on Human Rights to issue Human Rights Advisory on the roles of human rights defenders in social transformation and protection.-end-